It's Masters' Week in Georgia. The Masters is arguably the best sporting event in the world. Each year, the greatest golfers convene in Augusta, Georgia for a week of tradition, reflection, and competition. I can't think of another event that stirs the emotions and excitement of the golf world like The Masters.
With this being the kickoff to the golf season worldwide, the top brands release their very best marketing pieces right around Masters' Week. I want to share one such piece with you from TaylorMade Golf.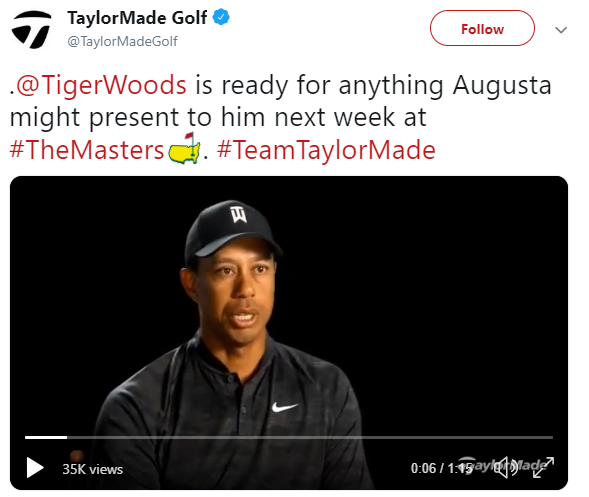 https://twitter.com/TaylorMadeGolf/status/1114966371794690048/video/1
TaylorMade is the No. 2 brand in golf, behind only Titleist. Tiger Woods is the most recognized athlete in the world and arguably the most accomplished.
Here are 3 things every healthcare marketer can learn from this TaylorMade video of Tiger Woods:
Deliver content your prospect wants. Brands are still amplifying their message to targeted prospects instead of delivering what the audience wants. Did you notice Tiger didn't mention equipment once? In healthcare, brands keep screaming features and benefits, but this repels the people you're trying to attract.
Brands are rewarded just for facilitating the conversation. TaylorMade has golf enthusiasts watching Tiger talk about how he prepares for The Masters via their Twitter account. It's content they can't find anywhere else. The insight and emotion watchers attain because of this weighs favorably for TaylorMade.
Be interesting. Today in the healthcare industry, your brand will look like a pioneer if you put out some interesting content. Unfortunately, healthcare brands continue to produce boring, functional, error-free content. How long would you have watched the Tiger video if he began with "My TaylorMade Driver is the most accurate, easiest to hit…."?
If you enjoyed this Marketing Minute, please share with your colleagues – especially if they are golfers!